Post by DoctoriDuniya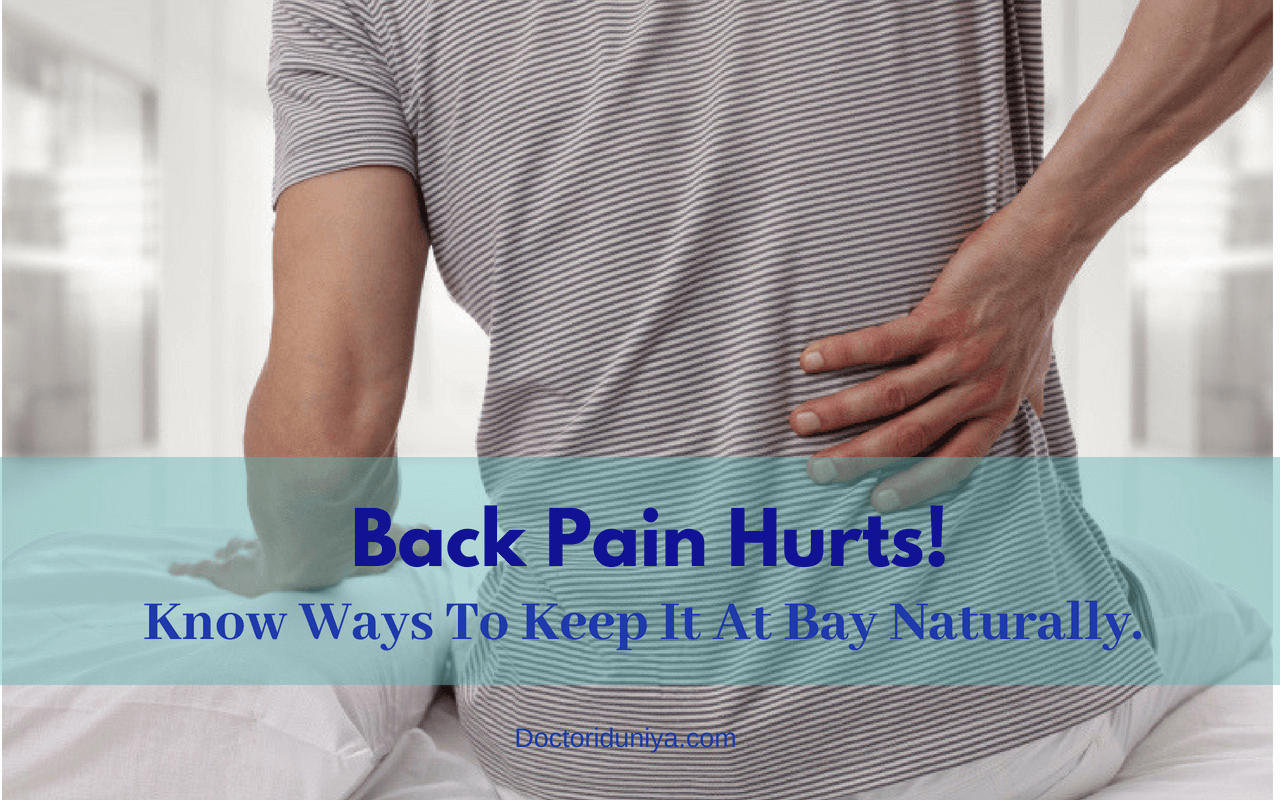 Ugh! Back pain hurts. Yes, you are not alone, the problem has widely affected at least half of the young generation. Back pain has been one of the leading causes of disability and lower work productivity. As it does not only ache your back but can also make you feel numb, weak, disabled. The persistent back pain may also cause fever, unexplained weight loss, and loss of appetite. It is unfortunate that we are the first reason who well contributes to the pain. Our sedentary lifestyles, long hours of sitting, being obese, consuming alcohol, using tobacco, being female, advanced age, family history, being involved in strenuous activity, etc are some most common risk factors that are highly associated with back pain.
Back pain can be mild, acute, and chronic, and if left untreated can adversely affect overall health conditions. Fortunately, it is on us that we can manage our condition and lower down the pain just by incorporating some little changes in our lives and lifestyles. Check out some tips that we have listed out to make you keep away from back pain naturally.
1) Add anti-inflammatory food- You will be glad to know that there are certain foods that can help you ease your back pain. The food you eat plays an essential role in boosting your muscle and joint health and maintaining a healthy weight. Due to the excessive consumption of unprocessed and inflammatory foods, the problem like back pain is prevalent. Adding anti-inflammatory foods, fibrous foods, calcium-rich diet, water, omega 3 rich foods, potassium-rich foods to your plate can help lessen your back pain. Try adding green leafy vegetables, bananas, beans, legumes, eggs, fish, dairy products, etc to manage your condition. It is also recommended to cut down your caffeine consumption, sugar consumption, unhealthy snacks, alcohol, and tobacco products, smoking to get healthy and painless back.
2) Exercise- Your sedentary life and sitting for a longer time highly make you susceptible to get back pain. And those who have already developed, these factors add more pain to the situation. Proper exercising and stretching can highly help reduce pain. You may also consult the therapist to know the best exercises for you. It is recommended to go for gentle and less strenuous exercise to not add more pain to the condition.
3) Sound Sleep- Lack of sleep may add more pain to the situation. Make sure you take enough sleep to manage your pain. Your sleeping posture should also be comfortable for you. Putting pillows under your knees can help lower your pain.
4) Supplements- Your body's nutrients deficiency also increases your chances of getting back pain. Calcium and some other minerals help boost bone health and prevent bone deformities. So it is to advise you to consult your doctor to suggest supplements to repair your situation.
5) Posture and work- You may not avoid sitting for a long time but you can take a small break while working. You may lessen your pain by avoiding prolonged sitting. Avoid sitting in the same posture for long times. Avoid bending forward for longer times. Well, support your spine while sitting on a chair.
To consult the best physiotherapist visit www.doctoriduniya.com
"Be Informed, Be Healthy"