Post by DoctoriDuniya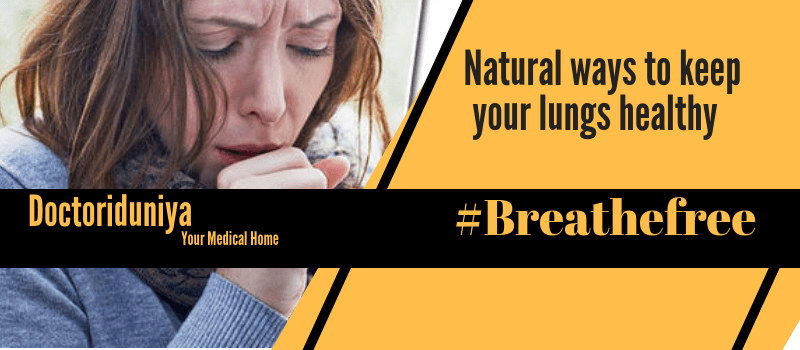 If you are an active social media user then the chances are that you might have seen various online campaigns such as #ibreathfree, #berokzindagi and #saveyourlungs for the people living with chronic respiratory or lung diseases. The whole motive behind these campaigns was to encourage people suffering from lungs problems live a normal and an active life. On the other hands these campaigns were also focused to increase awareness amongst the people about third leading cause of death- lungs diseases like COPD, asthma, bronchitis and many more.
In case if you are not well aware about the complications, causes, symptoms, diagnosis and treatment of the lungs problem then continue reading this post. Lungs problems no doubt, are extremely chronic conditions but contrary to that if diagnosed and treated on time, can be completely treated. Thus, it is extremely important for us to keep eyes on the abnormal change that occurs to our body or its functions such as breathing pattern, body weight, energy level and the frequency of getting cold, cough, and the other respiratory infections.
It is also seen that women are more likely than men to experience lungs problems and smoking tobacco, second hand smoke, infections, genetics and pollutions are highly responsible factors for most of respiratory diseases. So the best way to prevent yourself from the abnormal respiratory conditions is to quit smoking or to avoid exposure of secondhand smoke and air pollution.
Here are some most common symptoms you experience if you have developed any of the lung diseases.
Signs and symptoms include:
•

Frequent respiratory infections
•

Blueness of the lips or fingernail
•

Chronic fatigue and lack of energy
•

Producing a lot of mucus
As we know that early detection and screening is the key to successful treatment, it is highly advisable to consult doctor, if you are suffering from one or more of these symptoms. The doctor may recommend some tests to know the underlying cause of the problem.
With that being said, there are ways by which you can highly reduce your chances of catching lungs infection.
1. Avoid Smoke/secondhand smoke/pollutants- Smoking is one of the main causes of any form of lung diseases. Even the second hand smoke contributes equally.
2. Follow a Healthy Diet- A healthy diet helps keep your immunity strong that in return helps prevent infection. Foods full of vitamins, minerals, omega-3 and fibers help keep lungs whole and healthy.
3. Increase Water Intake- It is recommended to drink at least eight to ten glasses of water daily to clear mucus collected in airways.
4. Exercise- Exercise is a best way to have a healthy body. It strengthens respiratory muscles, improves mood, and reduces depression and anxiety. It also helps people quit smoking easily.
5. Consume herbs- Consuming herbs improve lung function and also decreases the chances of getting infected. It helps kill bacteria that may highly infect your lungs.
6. Reduce Stress- Stress is highly associated with the lung diseases. Stress and anxiety lowers the immunity and make body more susceptibility to get host of infections. So stress less and live more.
"Be Informed, Be Fit"