Post by DoctoriDuniya
EXISTING HEALTHCARE CHALLENGES AND THEIR SOLUTIONS THROUGH DOCTORIDUNIYA.COM
India is the second most populous country in the world. In spite of the intuitive and innovative accomplishments over the past decades, it still lacks in basic health care. Many diseases such as polio, tetanus, small pox, have been eradicated but some diseases are still increasing rapidly. HIV/AIDS, Tuberculosis (TB), malaria, cancer, diabetes, diarrhoea, heart attacks and some endemic diseases are posing threat to the healthcare system that requires early detection and rapid medication and must be tackled with all seriousness.
According to statistics, death rates have declined but birth rates continue to be high in some of the states. Healthcare industry is over burdened by increasing population. India is continuously facing the epidemic of emerging infectious diseases as well as chronic degenerative diseases. A large segment of the population is economically deprived which results in poor access to health care. Most of the children are born underweight and their life ends before their fifth birthday. Poor sanitary facilities are also the main concern. Lack of availability of doctors (India has 48 doctors per 100,000 persons), poor infrastructure, increasing urbanization, lack of medication in emergency or accident, lack of funds, political interference and lack of leadership in the medical community are the major threats creating challenges in healthcare.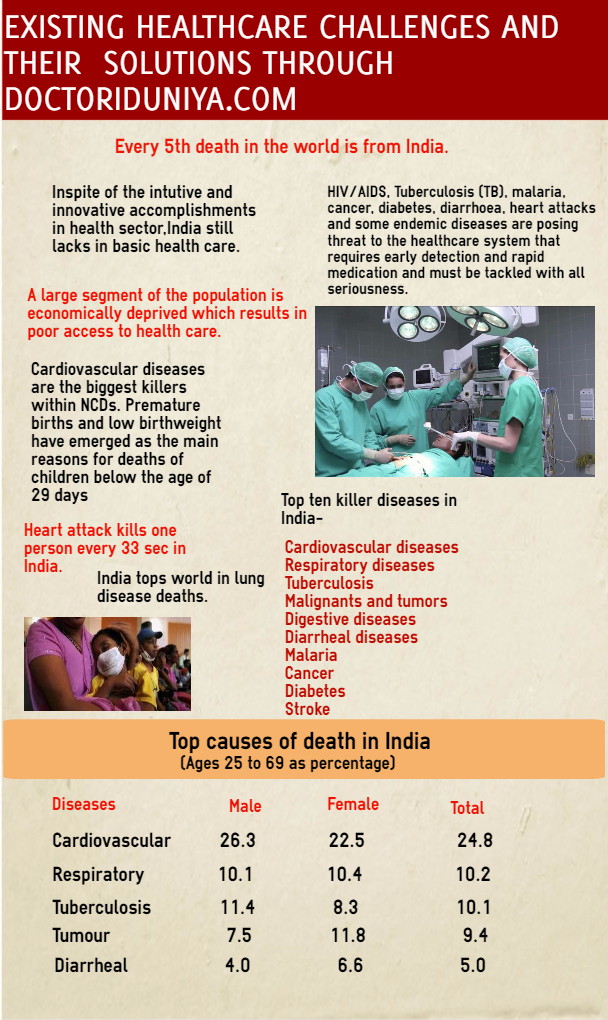 Delivery of qualitative and standard healthcare services should be considered as a basic need irrespective of age, caste, gender. Indian healthcare is facing substantial challenges in providing qualitative healthcare.
Causes of healthcare challenge-
Fastest growing population
Changing disease profile and reemerging disease
Multilayered healthcare system
Lack of absence of infrastructure
Inaccessibility of healthcare services
Rural versus urban divide
Political interferences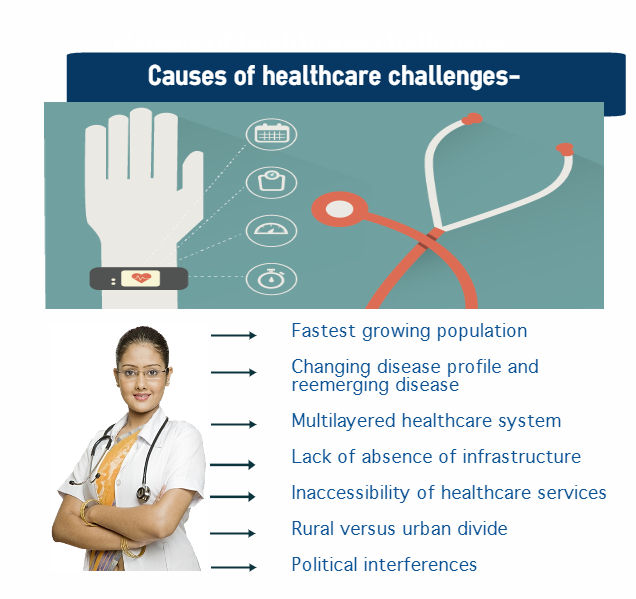 Fastest Growing health issues-
We are continuously trying to make difference in the healthcare industry through an innovative platform. Doctoriduniya provides a platform for patients to interact; patients are then free to figure out and choose the best way to access the healthcare that these doctors provide. We are seamlessly trying to cut down the cost of health care and ensuring better outcomes.
What we treat?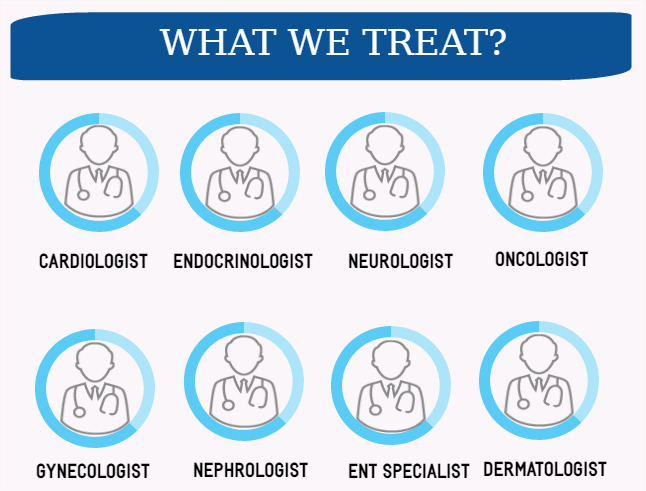 Why choose doctoriduniya?
150+specialist and super specialist doctors, clinic, diagnostic centers