Post by DoctoriDuniya
Experiencing Migraine Attack? Know What Triggers You Most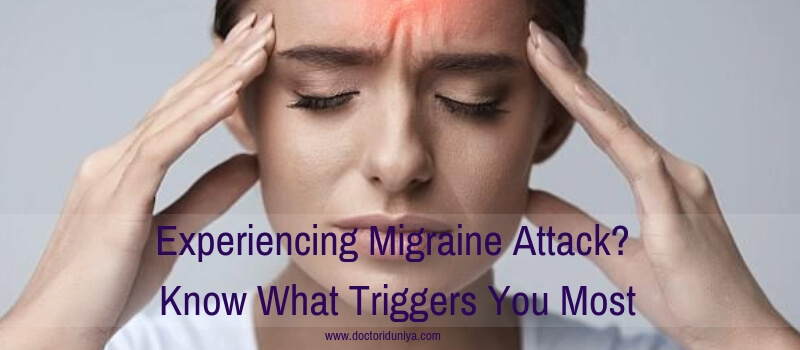 If you have ever experienced migraine, you must be knowing that how painful it can be at times and if not then chances are that someone you know has suffered from it. Migraine problem has become one of the most common illnesses in millions of people that adversely affect the quality of their lives. Approximately 1 in 4 people have some form of minor to chronic migraine symptoms and others may experience it at least once in their lifetime.
As per past statistics, usually, the younger generation experiences migraines more frequently than middle-aged people and elderly. It is also seen that women suffer from it more commonly than men. Its pounding and debilitating pain can wreak havoc in migraine sufferer's lives. It can make people impaired and disable during a migraine attack and may hamper their ability to perform even the simplest of daily routine work.
If you are one of those who frequently suffer from the symptoms like intense pain on one or both sides of the head, nausea, vomiting, loss of appetite, increased sensitivity to sound and light, irritability, blurred vision, dizziness and shakiness, increased thirst, numbness or weakness in the facial muscles, and inability to concentrate, you probably have developed a migraine. Given how painful it can be, it is necessary to ward off it triggers to avoid migraine attacks. There are various factors that are associated with it, that may vary from person to person. By keeping eyes on the triggers that cause you to experience migraine, you can highly reduce your chances of getting it.
1) Stress- Stress is found to be the number one trigger associated with migraine attack. It has been proved that people who are more stressed out experience frequent migraine attack than those who stress less.
2) Irregular sleep schedule- Not getting adequate amount of sleep can put you at greater risk of getting migraine attack. It is seen that people who skipped sleeping or went through interrupted sleep, experienced severe migraine attack.
3) Hormones- The imbalances in hormones have been also linked with migraine attack. It is seen that women during their menstrual period experience migraine attacks owing to change in their hormones levels.
4) Caffeine and Alcohol- Excessive caffeine or alcohol consumption goes hand in hand with migraine attack. By cutting down your caffeine and alcohol consumption you may highly reduce your chances of getting it.
6) Diet- There is a list of foods that are proved to be the culprit of migraine attack. Some foods contain substances such as histamine and MSG, that trigger migraine symptoms. Eatables like chocolate, cheese, dairy products, artificial sweeteners, etc are found to be the major culprit.
7) Dehydration- Not providing your body enough water may cause you to experience migraine attack. A dehydrated body causes symptoms like dizziness, lack of concentration, nausea and many others that may further lead to migraine.
8) Intense Light- Intense light can make you photophobic and cause you to experience migraine. That is why it becomes difficult for some people to go in broad day light or to spend time in flickering light.
By knowing that what trigger your migraine attack most, you can prevent yourself from getting it.
"Be Informed, be Healthy"