Post by DoctoriDuniya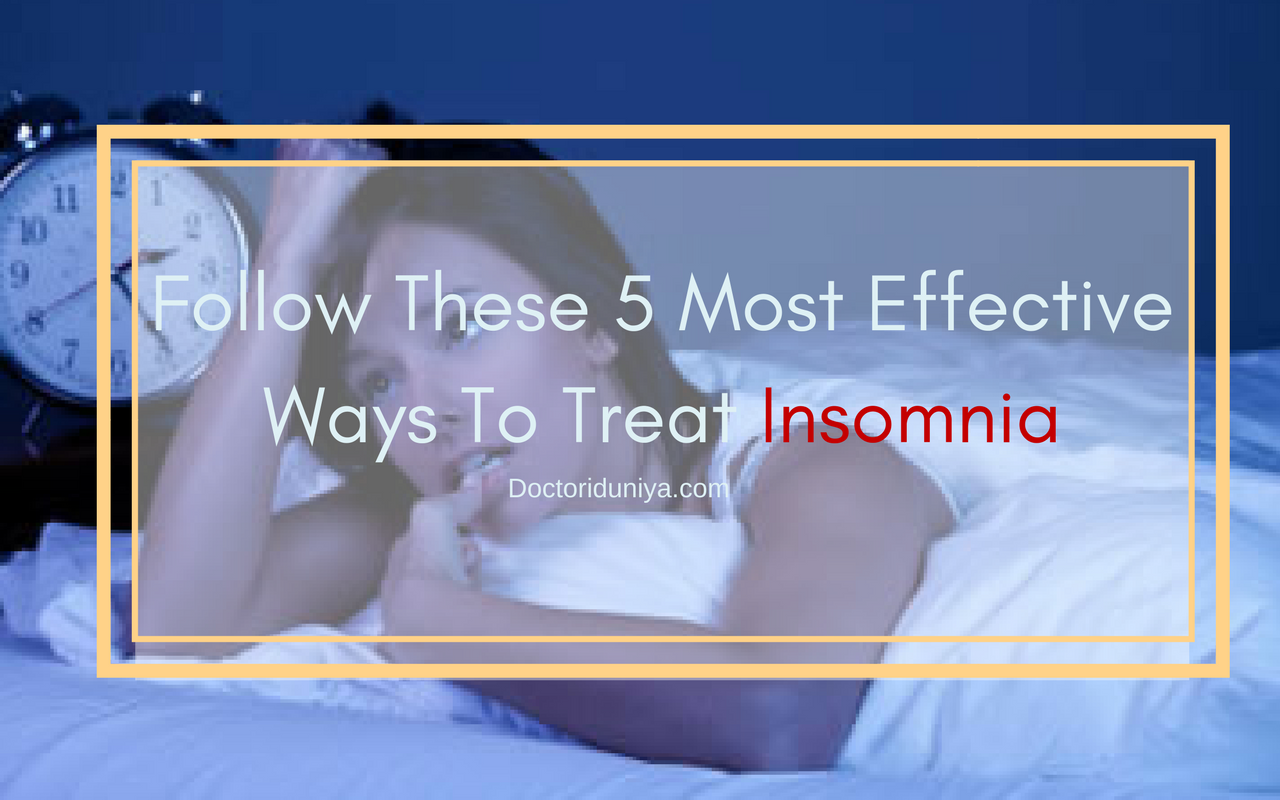 Finding it difficult to sleep? Do you spend whole night tossing and turning on bed? Do you experience interrupted sleep throughout the night and wake up too early? Do you wake up in the middle of the night and find it difficult to getting back to sleep? Do you experience irritation, aggression and mood swings just after waking up from bad sleep? Do you feel fatigue, low energy, weary and tired due to nighttime sleepiness? Cursing your clock at 2 a.m. would not help you come out from lifestyle-related condition- insomnia. Yes, insomnia is a medical condition which causes all of the above mentioned problems. Insomnia has a power to keep you awake throughout the night even if you are tired as hell or badly want to sleep.
Sleep is necessity of life just like many other essential things. It helps your body heal and rejuvenate after long tiring and exhausting day. It keeps your mind fresh and body healthy. When you do not get enough sleep your body suffers. And, unfortunately can lead to various health disasters. So it is essential for you to find ways to get essential sleep to keep your mind and body fit and healthy. Luckily, this problem can be resolved by making some lifestyle changes. Here, listing some natural ways by following which you can improve your sleep-wake cycle and restore your health.
1)Treat Insomnia with Food- Changes in the pattern of your food can work wonder in treating insomnia. The food you add in your diet plays an effective role in maintaining your sleep-wake cycle. According to a study it has been proved that adding more carbohydrate rich food in your diet induces sound and uninterrupted sleep. Consuming foods like honey, whole grain, nuts, seeds, green leafy vegetables, turmeric, and cinnamon promote sound sleep and restore your health. So it is recommended to add carbohydrate in your diet to treat your insomnia naturally. Studies also suggest that consuming large meals at bed time may cause disrupted sleep so it is advised to eat 2 to 3 hours before going to bed.
2)Warm Milk for Sound Sleep- Warm milk contains antioxidants and healing properties that could be a great option to treat insomnia. Researchers have proved that consuming warm milk before going to bed promotes sound sleep. Adding almond in milk would also be helpful as it is a good source of calcium which induces sleep hormones.
3)Increase Calcium Intake- Your calcium level in your body may cause disruptive sleep disorder. If your body does not have enough calcium it starts developing debilitating conditions such as muscles aches and cramps that lead to sleepless night. Researchers also prove that calcium boosts sleep inducing hormones such as melatonin that aids good sleep. Consuming cheese, yogurt, almonds, beans, seeds, salmons can help you with your calcium requirements.
4)Eat Magnesium Rich Food- Magnesium rich foods such as spinach, cabbage, pumpkin, coriander, banana, oatmeal, green tea, dark chocolate, almonds, and beans, cinnamon, honey, and turmeric may help you with your sound sleep. Researchers have proved that high magnesium level boosts sleep induce hormones that provide better and consistent sleep.
5)Cut Down Caffeine Consumption- Consuming too much caffeine can seriously affect your sleeping cycle. Studies suggest that caffeine suppresses the sleep inducing hormones and disrupt your sleep. So it is strictly advised to cut down your caffeine consumption especially before going to bed.
"Be Informed, Be Healthy"