Post by DoctoriDuniya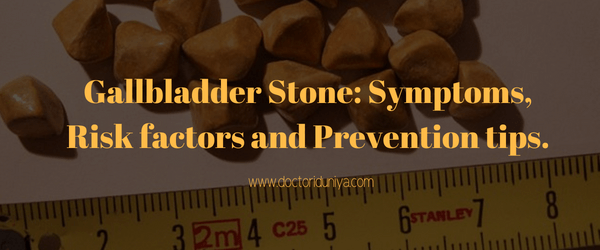 Gallbladder Stone: Symptoms, Risk factors and Prevention tips.
If you have not yet suffered from gallbladder stone, then I must say that you are lucky enough. According to the top gastroenterologist, gallbladder stone has become one of the most prevalent health concerns for people during their late adulthood. Approximately more than 70% of people develop gallstone and undergo surgery to remove the gallbladder to get away from abdominal pain and discomfort. A past study indicates that women are more vulnerable to develop gallbladder stone than men.
Signs and Symptoms of Gallbladder stone or gallstone
Gallbladder stones may vary in size and number and are often associated with some warning signs and symptoms. Sometimes they may not show any symptoms which in result may lead to serious complications. Some of the common symptoms that people usually suffer from include: pain in the back or upper right abdomen, indigestion, nausea, vomiting, abdominal cramping, and discomfort, swelling in the abdomen, frequent digestion problem, fever, chills, chronic diarrhea, jaundice, dark-colored urine or stool.
Risk factors that contribute to Gallbladder stone
There are various factors that highly contribute in the development of gallbladder stone. Factors like excessive consumption of fatty foods, lack of physical activities, low fibrous food consumption, nutrient deficiencies, obesity, high sugar consumption, high cholesterol, fewer veggies consumption, rapid weight loss, birth control pills, etc play a major role in contributing to gallbladder stone. Fortunately, you can greatly reduce your chances of getting it naturally by taking control of your diet and following healthy preventive measures.
Gallbladder stone prevention tips
1) Eat high fibrous food- Your diet pattern plays an important role in developing most of the health problem. Hence, keeping your body away from illness, you are highly advised to stick with green foods and vegetables. Foods equipped with fiber help keep your stomach healthy and also prevent you from developing gallbladder stones.
2) Avoid high consumption of sugar- Sugary foods have been highly linked with gallbladder stones. It is found that majority of people who consumed more sugar developed gallbladder stone than people who consume less or no sugar.
3) Maintain healthy weight- People with obesity or overweight are found to be more vulnerable to develop gallstone. It is also recommended to lose your weight slowly and steadily as rapid weight loss may increase the bad cholesterol level in the body and hence increase your chances of developing stone.
4) Exercise regularly-
Exercising regularly help reduce your chances of developing gallbladder stones. So, you are advised to do at least 30 minute exercise daily to lower your risk factors.
5) Avoid certain medication- Some medications have been highly linked with the development of gallbladder stones. Hence, it is recommended to consult doctor and talk to them to make sure your medicines are not harming your body.
"Be Informed, Be Healthy"