Post by DoctoriDuniya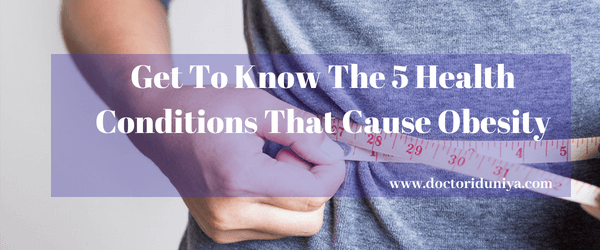 You do not eat too much but your BMI number (body mass index, a key indicator of overall health) might indicate that you are overweight or obese. You used to skip your meal various times in week and months but that may not lead you desired results in your weight. You might be visiting gym but that may surprised you with no positive result. Your all attempts go in vain. You are hopeless now. So, what next?
It may surprise you that your overweight or being obese is not always related to the amount of food you eat or binge eating or overeating. Most of the people always relate obesity with excessive food consumption and sedentary lifestyles (lack of exercise or physical activities). But that is not the case with everyone. The scene could be something else which has not yet been recognized and that demands more attention.
Yes, your overweight (having BMI more than 25) or obesity (having BMI more than 30) can be due to some specific medical conditions which might be yet not known to you. Your overweight is not always the problem but can be a symptom of another health problem. Health experts have linked obesity with more than 20 minor to chronic health conditions. We are providing you with a list of the most common health conditions/diseases that may cause you to gain weight. Go through this post and after reading, get your condition tested to know the underlying cause of your obesity. Push yourself one step forward to accomplish your goal.
1) Type 2 Diabetes-
Type 2 diabetes has been greatly linked with obesity. Majority of the diabetic people experience excessive weight gain due to the imbalance in their blood glucose level.
2) Hypothyroidism-
Little amount of thyroid hormone can lead to unintentional and rapid weight gain. Thyroid hormones are responsible for most of the metabolic activities. When the hormones secretion in the body gets disturbed, it eventually leads to weight gain.
3) Depression-
Depression and obesity often go hand in hand. As per the report, more than 40% of the people with obesity are struggling with depression.
4) Polycystic Ovary Syndrome (PCOS)-
PCOS is a woman's disease which usually affects 1 in every 15 women. It occurs when the hormones in a woman's body go out of balance.
5) Cushing's Syndrome-
Cushing syndrome is also one of the leading causes of obesity. It is a hormonal disorder which often associates symptoms like thin skin, excess weight around the abdomen, round and puffy face, increased facial hair in women, irregular menstrual cycle, frequent urination and mood swing. It increases your chances of getting pneumonia, tuberculosis, and tumors.
These were the some health conditions that need to be diagnosed and treated may help you keep your body in shape. Some of the other factors such as genetics, certain medication and unhealthy lifestyle contribute equally in developing weight problem. So do not delay in consulting best doctors to get your conditions checked.
"Be Informed, Be Healthy"