Post by DoctoriDuniya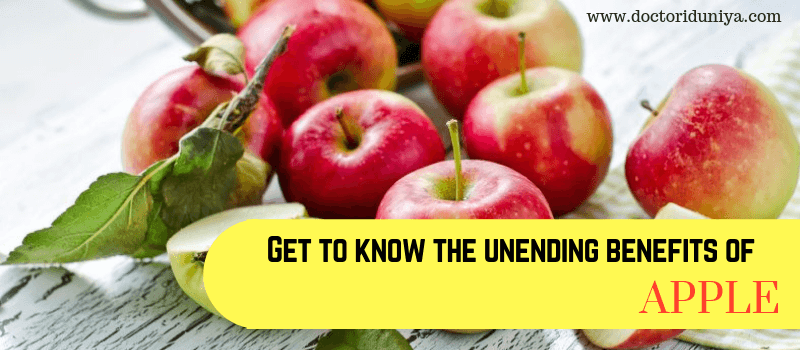 Owing to the unending benefits of apples, there is no denying that consuming an apple a day can keep your doctor away. It won't be an exaggeration to refer an apple a powerhouse of essential nutrients. According to health experts, you are supposed to see tremendous health benefits if you consume at least two apples daily. Packed with anti-inflammatory and antioxidant property, they are highly beneficial in supporting your body system. If you are one of the patients of obesity, viral infection, skin diseases, constipation, migraine, arthritis, thyroids, and anxiety, try adding an apple in your life to see positive changes.
1) Fight Heart Disease- According to health professional eating apple promotes good heart health. The antioxidant found in apple help reduces the bad cholesterol level in the body, regulates blood sugar, lowers inflammation hence safeguarding against various heart diseases.
2) Promote good digestive health- Apple is loaded with a high amount of fiber which helps protect various digestive problems. Preventing from constipation to bloating to irritable bowel syndrome, apple is associated with preventing bowel and colorectal cancer.
3) Keep skin healthy- Apples are a great source of vitamin C which is essential for healthy skin, good vision, and strong immunity and good cognitive health. Eating apple also protects against various infections and promotes wound healing, faster tissue repairing, and hair growth.
4) Help maintain ideal weight- Equipped with important nutrients and antioxidants and low amount of calories, apple intake help maintain the ideal weight. They are a good source for satiating appetite without adding much weight to the body.
5) May help fight diabetes- It has been found that consuming apple reduces the risk of developing diabetes The flavonoids present in apples helps balance the insulin level.
6) Fight with asthma- According to researchers consuming an apple during pregnancy helps prevent asthma in children. The anti-oxidants present in the apple help fight asthma and many other pulmonary disorders.
7) Packed with boron- Apple is known to be packed with boron. Boron is a mineral which is responsible for normal body growth, strong bones, and good mood. It helps prevent various bone diseases such as arthritis, osteoporosis, etc. It is also beneficial in relieving menstrual pain and boosting other minerals to work at their best.
"Stay Healthy, Stay Informed"