World Blood Donor Day is a day, dedicated to spreading awareness about the need and benefits of blood donation. Every year, 14 June is observed as a world blood donor day all over the globe to encourage people to become blood donors. The theme of this year is "Blood connects us all" and the slogan of this day is "Be there for someone else, share life, give blood".
Let's know the objectives of observing World Blood Donor Day on 14 June.
1)World blood donor day is dedicated to thank people involved in blood donation and to encourage others who have not yet donated.
2)World blood donor day is celebrated to raise awareness about the benefits of blood donation.
3)The motive of world blood donor day is to encourage people to donate blood at specific intervals on an unpaid basis to decrease the people's dependency on blood banks and to help people who are in need.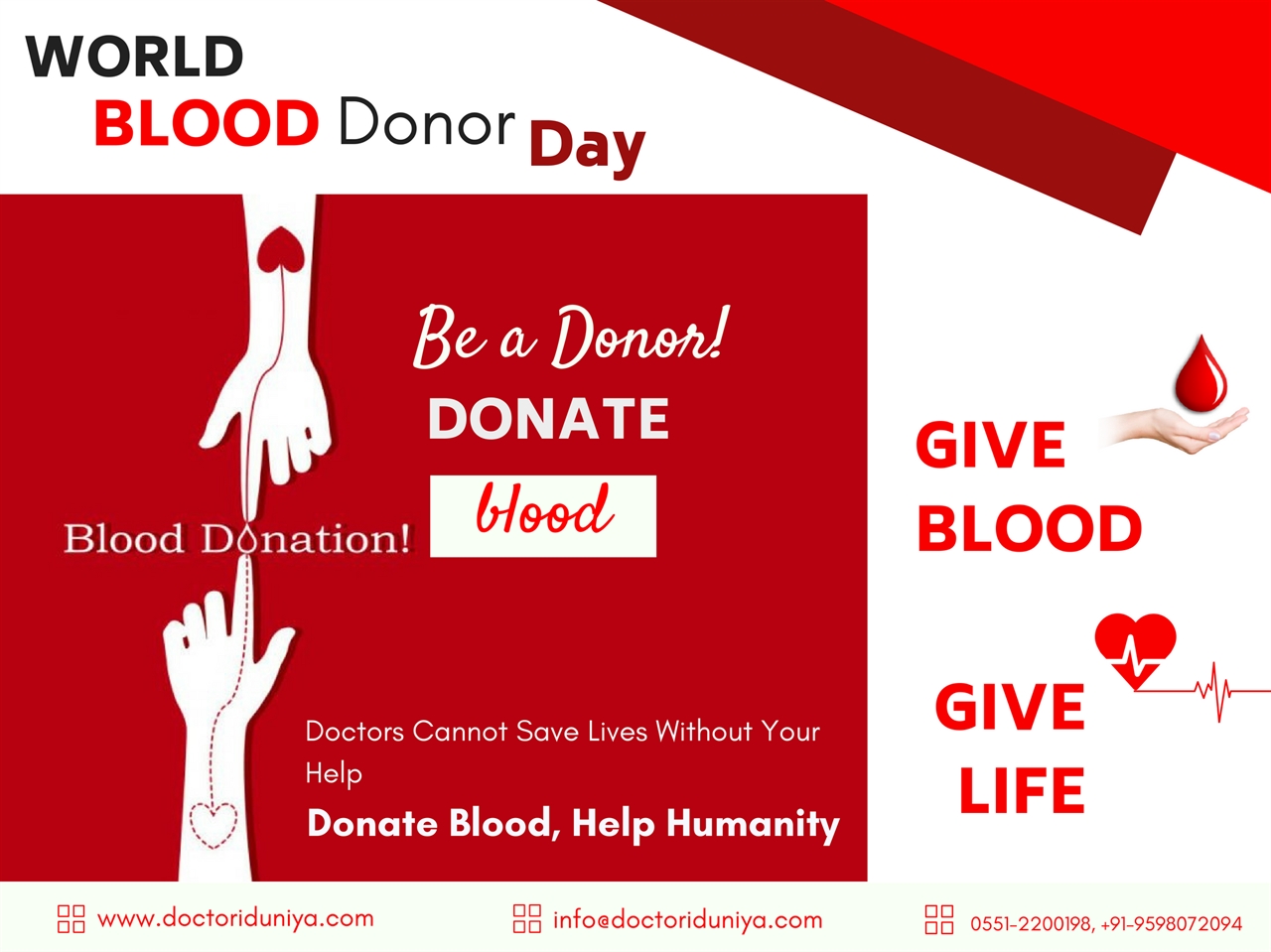 Let's know the benefits/advantages of donating blood on health.
Every year, blood donations save thousands of lives; in addition to that, it has proven positive and healthy effects on the donor's health. Here, listing the key benefits that why you should donate blood regularly.
1) Helps burn calories- Want to burn calories? Donate your blood. Donating blood has an impressive share of burning calories. Though we cannot consider blood donation as an alternative to exercise health professionals consider it a healthy option.
2) Reduces Iron Levels-
Though iron is vital in producing RBCs(red blood cells) unfortunately excess amounts of iron can cause negative effect on the body and its organ. Donating blood improves the iron level in the body and also paves the way for new red blood cells.
3) Helps people feel good about themselves-
Donating blood gives you a feeling of satisfaction. Knowing that you have contributed well in saving someone's lives, keeps your stress, anxiety, and depression away. It helps keep you a better person and a great human being.
4) Keeps your heart and liver healthy- Iron overload has been linked with various life-threatening heart and liver diseases such as cirrhosis, liver failure, heart abnormalities, and damage to the pancreas. Blood donation maintains the healthy iron levels hence reducing the risk of various ailments.
5) Reduces the risk of cancer-
Blood donation has been linked with decreased risk of various forms of cancers. By donating blood, your body maintains the iron level to extent that reduces the chances of various factors that may contribute to cancer.
6) Helps maintain a healthy weight-
Blood donation is good for people with unhealthy weight. As obese are high risk of heart attacks, stroke, and other diseases, it highly reduces the risk.
7) Stimulates Blood Cell Production- Blood donation replenishes the blood loss and boosts the production of new RBCs which in result leads to good health.