Post by DoctoriDuniya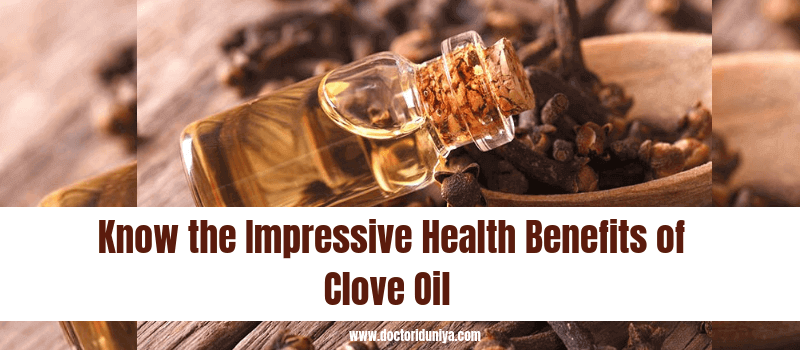 You might have been using clove or clove oil for years owing to its fragrance and taste. But I am sure that you may not be aware of its impressive health benefits and medicinal properties. Loaded with incredible properties, it can benefit your body in so many ways. From being helpful in treating body infections and soothing tooth ache to preventing respiratory problem and various forms of cancer, it has been helping ward off many minor to chronic ailments. Attributing the benefits of clove oil, many dental care medications have been using it as an important ingredient.
Its anti-inflammatory, antifungal, antiseptic and antibacterial properties have been greatly linked with good skin, dental, liver and digestive health. It is also packed with magnesium, iron, phosphorus, sodium, hydrochloric acid, vitamin, calcium, protein, and good fats that help keep many diseases at bay. So next time when you visit the market, it would be a wise choice to grab a bottle of clove oil for uncountable reasons. Mentioned below are some of the additional health benefits that clove oil has to offer.
1) Effective for skin health-
Clove oil has shown to be effective in acne treatment. Its stimulating properties prevent skin from the signs of ageing. It helps increase the blood flow under the skin thus preventing it from wrinkles and skin sagging.
2) Acts as infection killer-
Highly effective in treating wide range of infections. Its antiseptic and antifungal properties can provide relief from athlete's foot, fungal infections, prickly heat and help heal open wounds, injuries and infections.
3) Helps boost immunity-
Clove oil is highly helpful in boosting immunity by getting rid of free radicals. Its antioxidant properties prevent body from getting affected with bacteria and virus and increase body's resistance to many diseases.
4) Lowers down stress-
Its stimulating properties stimulate the mind and help get rid of exhaustion and fatigue. It is also helpful in inducing sound sleep hence provide relaxation.
5) Provide headache relief-
If applied on forehead, it provides quick relief from headache. Its cooling property is also effective in clearing blocked nasal passage, cough, cold, asthma, sore throat, etc.
6) Improves digestion-
One of the reasons it has been used in dishes is its digestive properties. It can be effective remedy for problems like vomiting, nausea, indigestion and hiccups.
"Be Informed, Be Healthy"