Post by DoctoriDuniya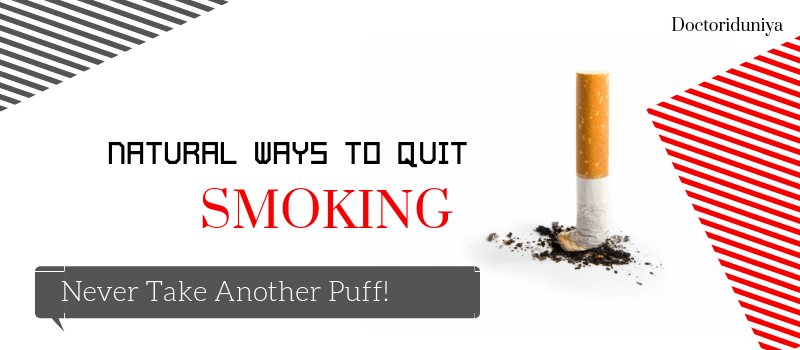 There is no argument: smoking is dangerous to health. According to the Centers for Disease, Control, and Protection, smoking is responsible for more than 5 lakh death every year. Compared to non-smokers, men who smoke are 17 times more likely to die early. From increasing the risk of respiratory damage to harming the circulatory system and reducing men's fertility to compromising the immune system, there is a list of compelling reasons you should immediately quit smoking. It has also been linked with an increased risk of diabetes, bone damage, teeth, and gums damage. If you are one of those who ever tried to quit smoking and got unsuccessful, go through this post to help yourself quit smoking again.
Though, there is no magic wand to help you quit smoking. It takes sweat, determination and hard work to help you achieve your resolution. But at last, the benefits are worth it. You need to keep it mind that plenty of people have done it and experiencing the new. And, you can do it too! Here, we have listed some natural ways that really work to kill your craving.
1)Start consuming lime-
According to experts, consuming fresh lime is seen as highly beneficial when it comes to quitting cigarettes. Lime is packed with nutrients like Vitamin C that helps in killing crave to smoke and also the effect of nicotine by eliminating it from the body.
2) Drink more water-
For keeping yourself always up to par, you are recommended to drink at least 8 to 10 glasses of water every day. Water has the superpower to heal your body in many ways. Sipping on water throughout the day helps beat smoke craving. A hydrated body is less likely to fall for the crave of smoke.
3) Learn to meditate-
There are shocking surprises in doing meditation. It takes only a week of meditation to stick to your goal of quitting smoking. Turns out, meditation helps regulate craving, manage withdrawal symptoms, and reduce psychological stress. It has been shown that people who practice meditation are more likely to succeed in quitting smoking.
4) Start exercising-
It has been scientifically proved that exercise highly helps in reducing smoke craving and easing its withdrawal symptoms. Exercise is a great stress reliever. As stress is associated with the smoke craving, exercising would be the best option. So next time if you feel an intense urge to smoke, go walking or running instead!
5) Have some rest-
Quitting smoking is linked with a list of withdrawal symptoms. Giving some rest to your body helps to fight with these symptoms and reinforce your healing. So, on the mission of quit smoking, give your body some rest.
Do your health some favor, start quitting smoking from today.
"Be Informed, Be Healthy"