Post by DoctoriDuniya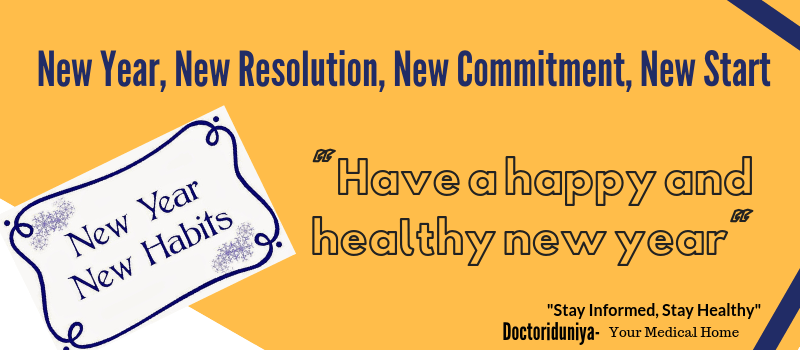 The New Year undoubtedly gives you immense energy to start something new, new motivation to achieve and sustain your goal, new inspiration to inculcate new habits that improve your overall health, productivity, liveliness and overall wellness. But this is also the time when we make resolutions and tend to break them. Ensure this year you make healthy resolutions and don't break them. Make this year your and your loved one's health a priority over any other things. Because, the greatest wealth is your health. You just cannot enjoy the little things of life if you are not in a good health. So be committed to your goal and inspire others to stick to their goal too.
Here we have collected and shared some of the health hacks for you from our experts health professionals. These tips would surely help you achieve a positive mindset, overall wellness, and a stress free life.
1) Say no to fizzy drink/soft drink-
Fizzy drinks are high in soda and have severe ill impacts on overall health. New Year is a great time to cut back your soda consumptions. Consuming soda has been highly linked to chronic health diseases like diabetes, obesity, high blood pressure, arthritis, asthma, tooth decay, kidney diseases, many respiratory diseases and even cancer. So it is highly advised to you to quit soda consumption to lead a healthy life.
2) Add more green veggies to your plate-
You can get healthier by adding more veggies to your plate. Veggies like spinach, beans, broccoli, and lentils are rich in their nutritional values. They are loaded with magnesium, vitamins, potassium, calcium, and many other nutrients. Veggies help boost immunity and prevent from various minor to chronic diseases.
3) Ease your stress-
One of the best health hacks you should not ignore at any cost is to stress less. Try keeping your reasons for anxiety and stress at rest. Stress does not only hamper your work productivity but also adversely affect your health. Go for a walk, read a book, inculcate habits that make you feel happy and busy, meditate, make a journal, drink green tea to ease your stress.
4) Turn off your mobile phone-
Best health hack to embrace. Turn off your mobile phone before going to bed. Its light does not only prevent us from sleeping but also trigger depression. So do yourself a favor, turn off your mobile phone to add health and happiness to your life.
5) Schedule a regular bedtime-
In the daily life of hustle and bustle, we hardly get time to schedule things that matter to our health. Among them one of the important things we usually avoid is to sleep as required. Lack of sleep becomes the reason for stress, anxiety, insomnia, and other health issues. So try to take at least 7 to 8 hours of sleep for a healthy mind and body.
6) Go For a trip-
It has been scientifically proved that traveling makes you healthier and fit. It has been experienced as a best stress reliever. It helps improve flexibility and boosts brain functionality. It gives a sense of happiness and contentment. It works well with depression as well.
If you suspect any health issues feel free to contact us at www.doctoriduniya.com or write us at [email protected]