Post by DoctoriDuniya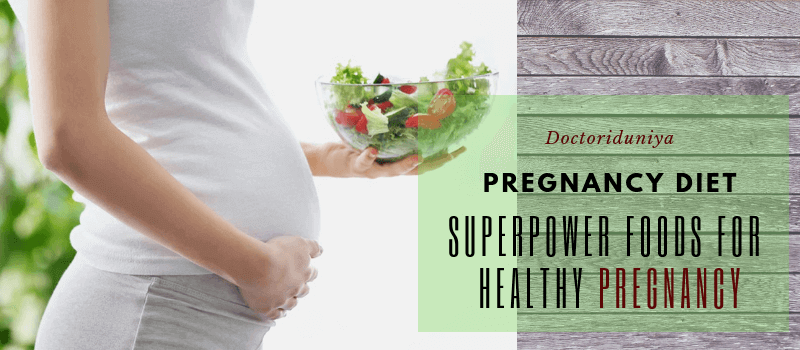 When you are in your journey of pregnancy, which lifestyle and habit you should adopt and what food you should eat are some of the top most concerns. Among all, a healthy diet plays a critical role in the proper development of the baby and mother's good health and well being. There are the countless number of information available on the internet, which contradicts each other and may leave you puzzled and confused about what foods you should add to your plate that ensures complication less pregnancy as well as healthy development of the baby.
When you are pregnant your body needs an excess amount of nutrients to prevent future abnormality and complications. A poor diet is associated with the minor to major health concerns ranging from fatigue, abdominal disorder, and heartburn to anemia, gestational diabetes, high blood pressure, and preterm labor.
Here is a list of super power foods that help nurture your baby by keeping you healthy, and energized.
Oranges-
Oranges are proven super foods for pregnant women. Enriched with essential nutrients such as vitamin C, folate, and fiber, they help manage pregnancy-associated symptoms and problems. They are high in water, so also help keep you hydrated and refreshed.
Nuts-
Our health experts recommend consuming a handful of nuts every day. They are high in calcium, magnesium, iron, Vitamin B and E which are critical for the overall development of the baby.
Yogurt-
Yogurt can do wonders for your health. Loaded with a high amount of calcium and probiotics, it fulfills the nutrients need of the body. The good bacteria present in the yogurt also help prevent infection and allergies in the baby.
Sweet potato-
Consuming sweet potato during pregnancy supports your body in many ways. From fulfilling the required nutrients of the body to providing energy, sweet potato provides faster baby growth. It is high in the number of essential vitamins, manganese, copper, and fiber which help fight with pregnancy complications.
Bananas-
Bananas are filled with fibrous and nutrient-rich properties. The high amount of potassium present in banana helps fight muscle cramps and pregnancy fatigue. It also helps maintain normal blood pressure.
Beans-
Vitamin K, iron, zinc, folate, copper, protein are some healthy nutrients required in pregnancy. Beans are packed with all of them. The high amount of fiber helps prevent pregnancy complications such as constipation and other digestive issues.
Milk-
One of the most recommended superfoods in pregnancy is Milk. At least two cups of milk are recommended for pregnant women for a safe and healthy pregnancy. The body needs more calcium when you are pregnant, and milk plays a great role in fulfilling that need.
Note- In any gynecological help feel free to consult our doctor.
"Be Healthy, Be Informed"