Post by DoctoriDuniya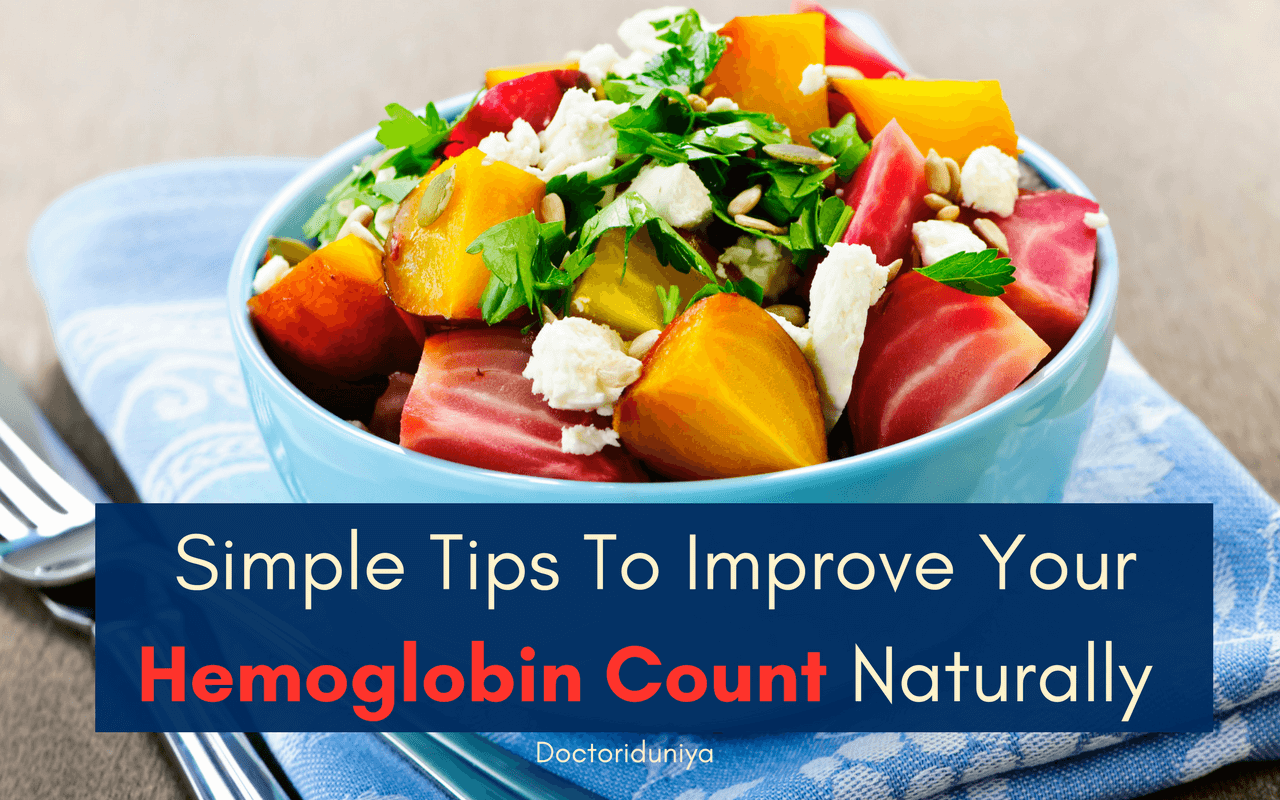 Feeling fatigued and tired throughout the day? Experiencing weakness, poor appetite, and rapid heartbeat? Issues like shortness of breath, dizziness, and body pain have become the order of the day to you? If yes, then getting your blood test done would be the best option for you. A study has shown that more than 60% of people have low hemoglobin count or, are anemic and the worst part is that most of them are unaware of it.
There could be various factors that cause hemoglobin deficiency such as pregnancy, heavy periods, liver disease, urinary tract infection, hypothyroidism, lead poisoning, chronic kidney diseases, malnutrition, and even cancer. So it is extremely important to know the level of hemoglobin count of the blood. Knowing hemoglobin count at regular intervals helps you know the underlying conditions that may put you at risk of severe life-threatening diseases.
According to some top nutritionists, it is advised to take healthy measures to increase the level of hemoglobin to prevent anemia in the future and its complications. It is also recommended to follow certain lifestyle changes such as healthy eating and regular exercise to increase and restore hemoglobin levels.
Here we have explained some simple tips that can help you increase your hemoglobin level.
1) Add iron-rich foods to your plate- Iron is one of the essential components of the red blood cells. So it is essential to consume iron-rich foods to maintain the level of hemoglobin in the blood. Consuming iron-rich foods such as spinach, beans, seafood, beetroot, pomegranate, cauliflower, tomatoes, papaya, oranges, beetroot, pomegranate, banana, apple, watermelon, chickpeas, sprouts, brown rice, whole grains, almonds, dates, jaggery, raisins, etc help you restore hemoglobin count to normal limits.
2) Consume more Vitamin C loaded foods- Consuming iron-rich foods would not be enough to maintain a normal level of hemoglobin count. Vitamin C along with iron-rich foods help maintain hemoglobin count faster so it is recommended to add more Vitamin C packed food to your diet. Add citrus fruits like lemon, oranges, strawberries, dark leafy green vegetables, amla (gooseberry) to increase hemoglobin count.
3) Increase intake of folic acid- Folic acid plays a vital role in the production of hemoglobin and decreases the risk of anemia. Hence, it is recommended to add folic acid-rich foods such as green leafy vegetables, cereals, rice, peanuts, bananas, sprouts, broccoli, chicken liver, and beans. Some nutritionist also recommends taking supplements of folic acid to increase hemoglobin count.
4) Regular Exercise- High-intensity workouts and exercise do not only help you build muscles but also improves the blood circulation level. Researchers have found out that regular exercise helps increase the hemoglobin level and prevent conditions like low blood count and anemia. So it is advised to indulge in physical activities such as regular exercise, yoga, and meditation to keep your hemoglobin level high.
5) Avoid Iron Blockers- There are certain foods that have the ability to absorb iron content from the foods you consume. So it is better to avoid these foods to maintain hemoglobin count. Beverages like coffee, tea, cold drinks, aerated drinks, alcohol are considered as iron blockers so it would be good to cut down your consumption.
"Be Informed, Be Healthy"