Post by DoctoriDuniya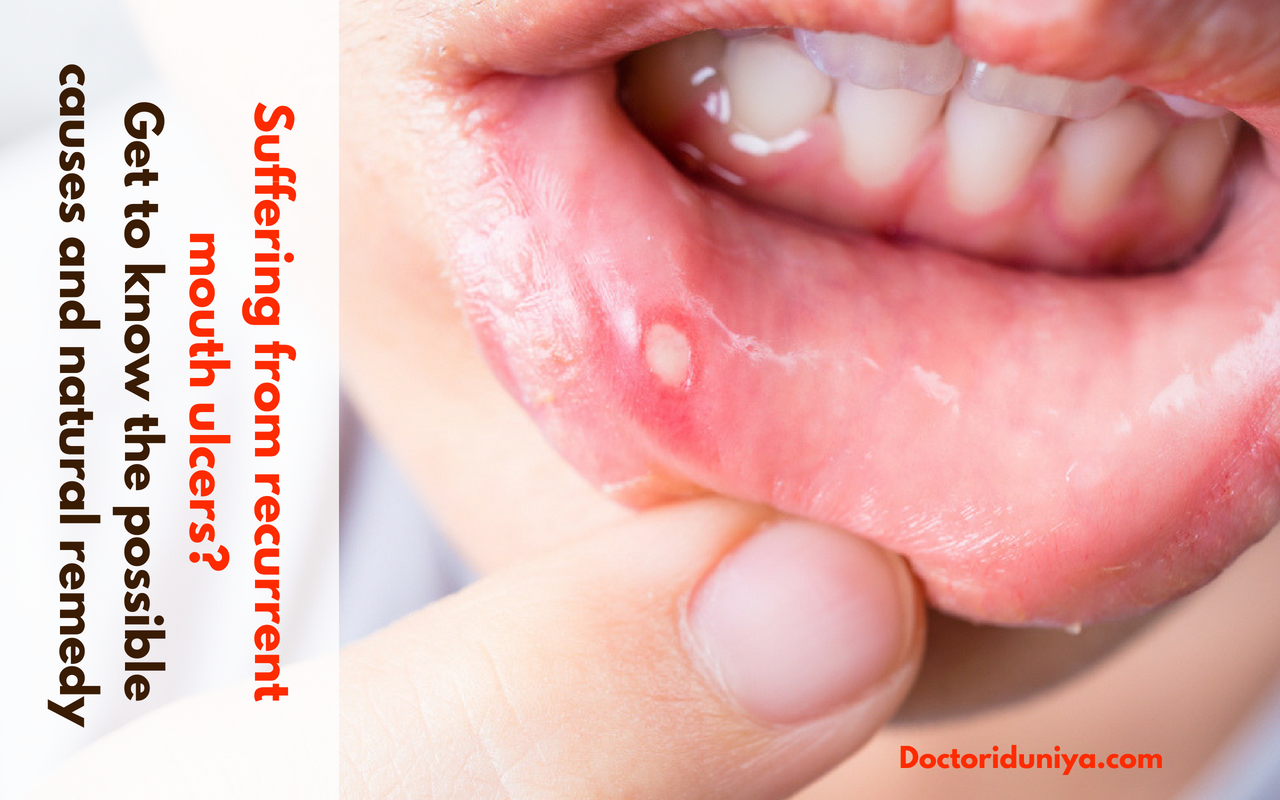 There are times when you wake up with a painful sensation in your mouth. You also observe white, red, or yellow patches inside your cheeks, on tongues, or inside the lips with pain and inflammation which are more likely to become intense when you talk or chew. It is seen that women are more prone to develop mouth ulcers than men; however, it can affect people of any age at any time.
Some people experience this more frequently than others and suffer from the uneasiness, discomfort, and emotional stress along with it. You may also experience tingling and burning sensation whose intensity varies from size and structure. If you are one of them who suffer from this condition more frequently, you surely need to go through this post.
Here, listing out some most common associated symptoms of mouth ulcers.
1) Red, yellow or white sores – on your tongue, cheeks or inside your mouth
2) Burning, inflammation and painful sensation
3) Fever
4) Physical tiredness
5) Swollen lymph nodes
You may experience it due to one of these causes.
1) Food allergy or sensitivity
2) Accidental cheek bite
3) Emotional stress
4) Hormonal changes
5) Acidic or spicy food
6) Injuries
7) Toothpaste anti-reaction
8) Bacterial infection
9) Nutrient deficiency
10) Autoimmune disorder
11) Inflammatory bowel syndrome
Fortunately, there are natural ways that would help you cut down your pain and speed up your recovery.
1) Ice It
Small chunks of ice cubes may highly reduce your pain and inflammation. Applying ice cubes prevent blood flow to the sores hence reducing the pain, uneasiness and swelling.
2) Careful eating
Avoid eating spicy or acidic foods as they trigger inflammation and pain.
3) Eat food with B vitamins
People with vitamin B deficiency more frequently suffer from mouth ulcer. If you take supplements or consume foods packed with vitamin B, you may reduce your chances of developing it.
4) Supplement with Iron
Iron deficiency is one of the top causes of mouth ulcers. By enriching your body with iron you can reduce your susceptibility.
5) Yoghurt
Yoghurt is packed with a substance that helps calm down your inflammation, swelling and pain.
6) Apple Cider Vinegar
Vinegar acts as an antibiotic and helps kill bad bacteria. They also trigger the development of good bacteria. You can use it as a gargle option.
7) Hydrogen Peroxide
Applying the mixture of hydrogen peroxide and water through cotton swab would help heal your sore faster.
8) Black tea
You may not be aware of the benefits of a used black tea bag. By simply applying it to the sores, you can help cut down your pain and swelling.
You need to consult the general physician if your sore is taking more than 3 weeks to recover. If you have intense pain, fever or if, it is spreading to other parts of the mouth, do not miss the doctors visit.
"Be Informed, Be Healthy"