Post by DoctoriDuniya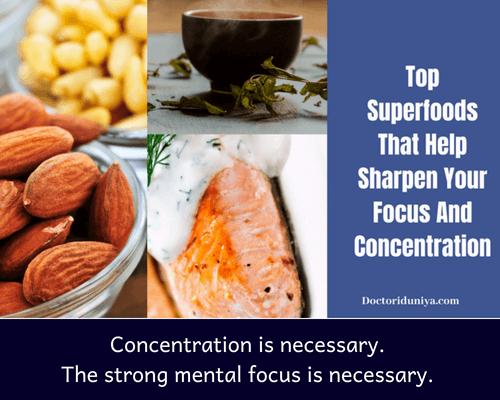 Concentration is necessary. The strong mental focus is necessary. Whether you need to accomplish the task efficiently in the office, or need to perform basic day-to-day activities successfully or want to score good marks in your examinations, proper concentration is very much needed. If your mind won't be able to concentrate on things you want to accomplish successfully, you would end up with less than the desired result or no result. According to brain health experts, better concentration helps people lead quality and successful life. Thus, it is important to improve your concentration to lead a quality and productive life.
However, there are various external and internal factors that can highly interrupt your concentration. Some of the top concentration killers are social media addiction, work pressure, poor diet, hunger, lack of sleep, hormonal changes, stress, lack of physical activity, certain health conditions such as ADHD, dementia, anxiety, bipolar disorder, brain surgery, sleep apnea, and emotional trauma. But the good part is that you can naturally improve the concentration power only by incorporating certain healthy foods into your diet.
Go through this post to get to know about the superfood that can help sharpen your focus, improve memory, concentration and brain function.
1) Green tea- When it comes to green tea, you just cannot deny the tremendous health benefits of consuming it. It is equipped with substances that have been linked with improved focus, better attention, speed, and accuracy.
2) Water- Dehydration highly affects the mental ability and cognition power. When your body gets dehydrated, you feel a lack of concentration, lethargy and fatigue. It disturbs your energy and brain function. So it is important to boost your brain for better clarity by hydrating yourself. It is recommended to drink at least 7 to 8 glasses of water every day.
3) Flax seeds- Flax seeds have the uncountable number of benefits associated with it. From reducing the risk of cancer and bad cholesterol level to lowering high blood pressure and improving concentration, they have been used in dishes for centuries. Flax seeds are loaded with nutrients such as magnesium, B-vitamins, Omega-3 fatty acids, and fibre, that help you get mental clarity and improved focus.
4) Nuts- Do not forget to grab a handful of nuts before leaving for office. They are the seeds that are highly packed with nutrients and antioxidant properties. Researchers have proved that people who consume nuts have better cognitive function than others who don't.
5) Fish- There is no denying to saying that fish is a brain booster food. Packed with healthy protein, and Omega-3, it has a positive impact on mental health. Fish has been linked with reduced mental disorders such as dementia, stroke, mood swing, hyperactivity disorder, and depression.
6) Whole grains- Whole grains are loaded with fibre, vitamins and minerals. They have been linked with reduced plaque buildup, improved blood flow, and better cognitive functions.
With all above-mentioned things, you are also required to get enough good night sleep, to perform exercise and meditate daily to get better concentration and focus.
"Be Informed, Be Healthy"