Post by DoctoriDuniya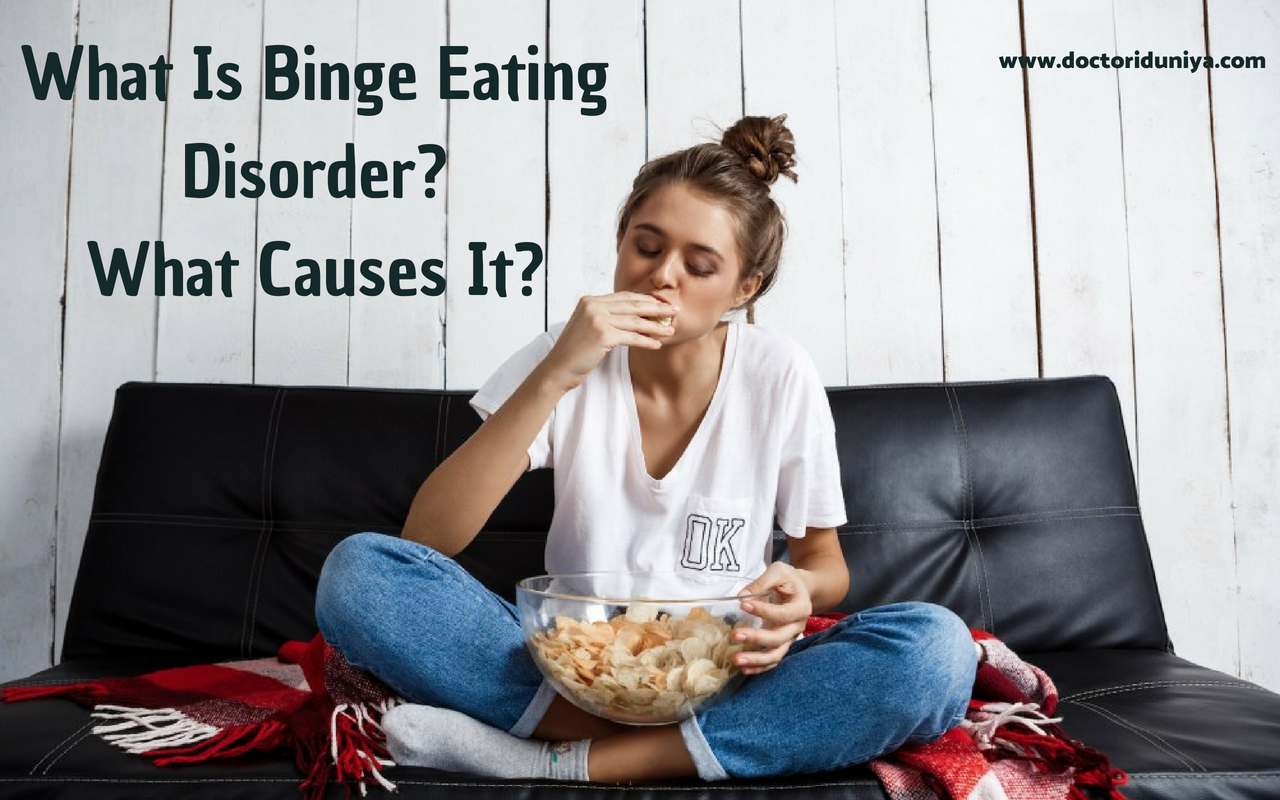 Do you eat too much? There might be times when you are uncomfortably full but could not stop eating. Though, it may be embarrassing situation for you but unfortunately you cannot do much about it. The possibilities are that you may have developed binge eating disorder. This disorder has been evolving at higher pace and mostly affecting women. It has various serious complications on health such as lower motivation, obesity, hopelessness, diabetes, arthritis, heart attack, etc. So the question arises what is binge eating disorder and what causes it?
Binge eating disorder is just like any other disorder that causes detrimental effects on health. It is defined as a frequent episode of overeating. Frequent episodes of overeating may involve excessive consumption of food at short intervals. You may feel a loss of control over eating, guilt, anger, and distress. People may have a hard time with a binge eating disorder. But fortunately, the disorder is treatable and should not be ignored.
Listing, some major factors that cause binge disorder.
1) Depression- Based on research, it is found that people with depression are more prone to develop binge eating disorder. People with anxiety, low self esteem, guilt and hopelessness easily get trapped in binge eating.
2) Trauma- Childhood trauma, abuse, neglect, and many similar factors easily contribute in developing binge disorder.
3) History of Restricted Eating Patterns- You may have developed binge eating disorder, if you have restricted pattern of eating such as dieting. It is believed that people have more urge to eat after being on diet.
4) Environmental Factors- Your social and cultural environment plays an important role in developing binge disorder. Your work pressure, tension and anxiety are also some common factors.
5) Biological Factors-Your hormones are number one biological factors that highly cause binge eating disorder. Changes in hunger and your satiety is also based on hormones imbalance which may further cause binge disorder.
People with binge disorder may struggle mentally and emotionally. It is highly recommended to seek doctor's help if you are going through it. It is advised to add more nutrients and fiber rich foods to your diet. Building self esteem and motivation would also help cope up the disorder.
"Be Informed, Be Healthy"