Every year on 7th April, we observed World Health Day to commemorate the anniversary of the founding of WHO (World Health Organisation). The motive of World Health Day is to take actions against existing health topic and issues. The theme of 2017 world health day is depression, which is considered as the leading cause of death amongst adolescents, women and young adults. The theme Depression: let's talk, is focused on reaching out and assisting people in tackling this mental illness. According to the statistics, about 350 million people are suffering from Depression.
There are many factors that cause depression, it could be biological, genetic, psychological or social. It not only affects the depressed person but also affects the person living with the sufferer. Depression is a medical condition that leads to mental illness. Sometimes it is hard to detect, means you could have this illness but you won't realize. Knowing the signs and symptoms that cause depression is important.
Here are some common signs of depression that you ought to know:
2. Changes in mood rapidly.
3. Low self-esteem, less enthusiastic, pessimist, lose interest in activities.
4. Alcohol or drug addict.
5. Started eating less as compared to before.
8. Lack of decision-making ability.
9. Lack of concentration.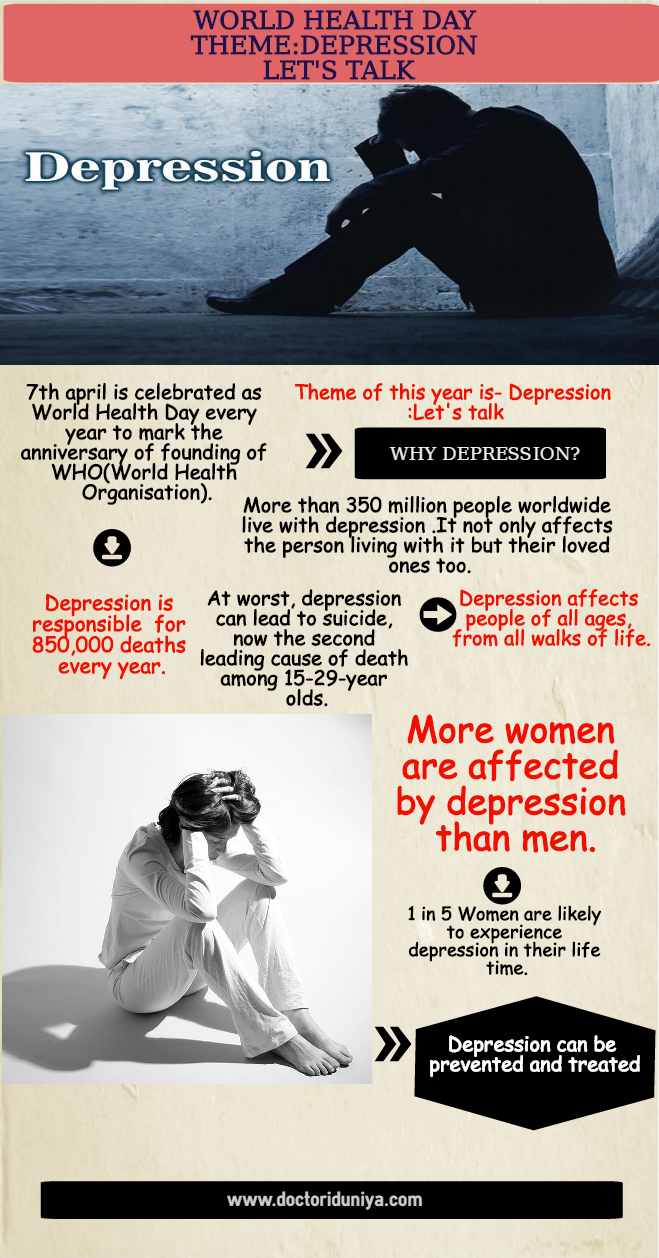 What actually causes depression?
1. Past physical, sexual, or emotional abuse can cause clinical depression in life.
2. Personal conflicts or dispute with family, friends can also be the reason for depression.
3. Death or loss of loved one may increase the risk of depression.
4. Serious illness also causes depression.
5. Losing a job or income, getting divorced or retirement can lead to depression.
Depression is curable, It is advisable to consult doctor and specialist as it can be cured by taking proper medication and therapy.